Coaching a Winning MSIP Team in Rural California
How can we motivate middle school students to pursue careers in Science, Technology, Engineering and Math (STEM)? Our most recent teacher spotlight focuses in on Dennis Mitchell at Evergreen Middle School in northern California and he may have a fairly unique approach to answering that question, "no grades".
"The Mars Student Imaging Project is the single most satisfying curriculum and experience I have ever done with students," said Mitchell.
Dennis Mitchell, a California state Life Credential teacher and Mars Student Imaging Project Educator, is offering a completely voluntary extracurricular Mars student-imaging program in rural California, and he is seeing amazing results.
"Rarely do I have students quit the team. They stay with the project through the end. They do not receive a grade or any kind of school credit for participating. The fact that they stay with the program shows the true value of the Mars Student Imaging Project," Mitchell said.
The Mars Student Imaging Project at Evergreen Middle School is providing the school with a way to test some of these ideas and is finding some interesting results as students are more motivated to engage in their own science learning and the team environment that is being developed is really showcasing the students' individual strengths and talents.
"I try to identify each of my team member's talents and then help them use those talents for the benefit of their team. Every year I have students on my MSIP team that are great with numbers, some with amazing language skills, others handle technology like they were born with it in their hands, and others add their talents in other ways to help make a wonderful science research team," said Mitchell.
"Learning to recognize the strengths of each and every student in my class or on my MSIP team ensures success for everyone."
And without students receiving grades for their work, Dennis feels it just adds to their motivation for completing the project.
"I feel it is a huge advantage to participate and learn in an environment that is free from grades. My students use their academic skills learned in math, language arts, science, social science, etc. in a program that they perceive as fun and interesting to them (Dr. William Glasser's Choice Theory), so therefore they put in more effort and energy because they see the value in what they do. That is their reward.
The results speak for themselves, among Dennis' students over the past 8 years of teaching MSIP he has seen consistently that students involved in MSIP score higher on Math and Language Arts State Standards assessment exams. And that is just the beginning of their accomplishments.
"Several of my students that participated in the program went on to become the Salutatorian and Valedictorian of their high schools. This year alone four of my former students that participated in my MSIP Program were accepted to major universities like Stanford, and Cal Poly in San Luis Obispo (An engineering college in California.) in science related fields. One young lady will be starting her college career as a sophomore as she started college classes in high school. Several of them mentioned in their graduation speeches and scholarship applications being a part of the NASA project as the reason they wanted to pursue a science related field."
"I have no doubt that my student's participation in the Mars Student Imaging Project has a huge impact on their life", said Dennis.
Another unique aspect of the MSIP program at Cottonwood is that Dennis has expanded the project through the HiRISE Quest program at the NASA Ames Research Center. All student MSIP teams have the capability to combine a number of different NASA data sets but the students at Evergreen take it to another level by presenting their findings from MSIP and HiRISE to a panel of research scientists at the NASA AMES Research Facility in Mt. View, California.
"I try to give my students on the team as many opportunities as possible in learning about Mars and space science research."
"I have been a Service Learning facilitator and have been conducting Service Learning Projects for over 20 years. As part of this Service Learning Project, students on our MSIP team raise money to visit the NASA AMES Research Facility in Mt. View, California each spring. The students present the findings of their Mars Student Imaging Project to a panel of Research Scientists at the AMES Facility as well as being given a VIP tour of the site."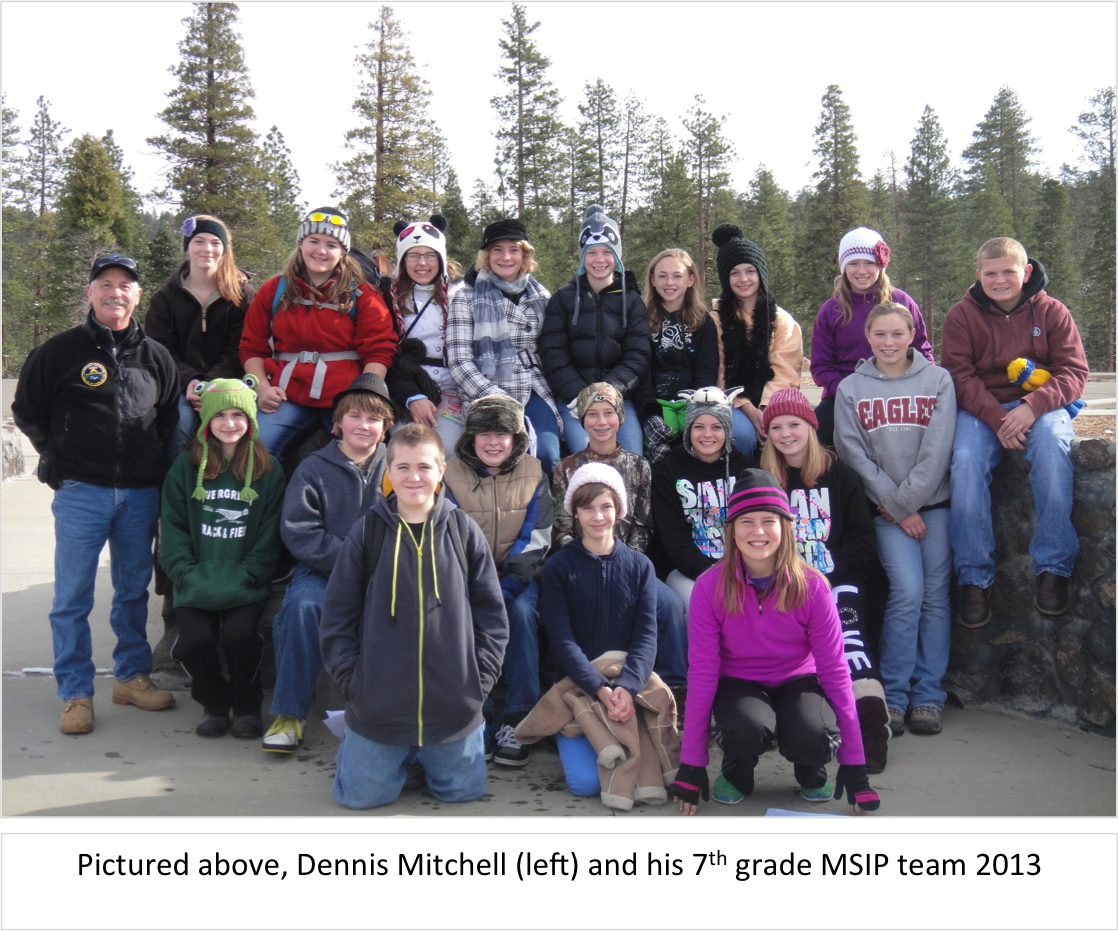 Dennis strives to give his students the most experiences that he can to increase their knowledge of planetary science.
"Their learning is enhanced with the simple premise that all learning takes place with experience. The more experiences the students have with something, the more knowledge they have. The more knowledge they have the more intelligence they have with the subject and are able to synthesize or use their knowledge in creative and innovative ways."
It takes all the right ingredients to make a winning team, and Dennis Mitchell is making something special.
"The best part of the Mars Education Program is the curriculum and the opportunity to do real science, not science that is make-believe or contrived. It offers the students an opportunity to make a discovery on Mars that has never been made before, like the cave one of my teams found in 2010. No one had ever observed that cave before and the fact the students on my team recognized that feature in their image provided proof that even a group of 7th grade kids can still make discoveries that are literally out of this world!"
Dennis Mitchell is showing the strength of teaching MSIP in rural California.