Sheri Klug Boonstra
Director, ASU Mars Education Program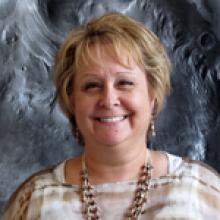 Sheri Klug Boonstra has worked for over a decade as the Director of the ASU Mars Education Program within the Mars Space Flight Facility, School of Earth and Space Exploration at Arizona State University. Ms. Klug Boonstra is the formal education lead for the Mars Public Engagement Team at Jet Propulsion Laboratory in Pasadena, CA. The ASU Mars Education Program at Arizona State University, in collaboration with JPL, leads the formal education outreach efforts to K-16 teachers and students for all NASA's missions to Mars.
The ASU Mars Education Program has provided hands-on, inquiry-based Mars workshops for K-16 in-service and pre-service educators across the United States, developed experiential research programs for students – Mars Student Imaging Project (MSIP) and Mars Exploration Student Data Teams (MESDT), created and coordinated Earth/Mars-related national field trips for teachers. Her program has emphasized classroom and educator connectivity with Mars scientists and engineers.  Ms. Klug Boonstra has been involved with NASA from 1995 - 2011. Ms. Klug Boonstra has participated in numerous national Mars-related public outreach events including Mars mission launch conferences, Mars Day at the Smithsonian National Air and Space Museum in Washington, D.C. and National Space Day.
Ms. Klug Boonstra serves as the Education and Public Outreach Lead for the ASU Lunar Reconnaissance Camera Program and the ASU NASA Astrobiology Institute Team.  She currently also serves on the NASA Headquarters Science Mission Directorate - Science Education and Public Outreach Forum as the Planetary K-12 Representative. Ms. Klug Boonstra is on the Advisory Council for Space Center Houston – the Official Visitor Center for NASA's Johnson Space Center.
From 2008 to 2010, Sheri Klug Boonstra was the USRA Director and NASA Project Administrator of the NASA Undergraduate Student Research Program (USRP) located at NASA Johnson Space Center in Houston, TX.  As such, she managed a distributed national team that annually placed over 345 competitively selected undergraduate science, technology, engineering, and math (STEM) interns at 10 NASA Centers and 2 NASA
Research Centers. She was the USRA lead for building and promoting connectivity between NASA national education projects (pre-college and higher education) and USRP to strengthen NASA pipeline, provide educational guidance to align USRP with the university community's needs while meeting NASA's goals of a STEM workforce goals.  She was involved in planning and conducting reviews of educational research and overseeing the USRP project evaluation for NASA.
Ms. Klug Boonstra served as the Education and Public Outreach representative on the Solar System Exploration Subcommittee for NASA Headquarters for 3 years and was a member of the Lunar and Planetary Institute Science Council for the Universities Space Research Association for 3 years. As a NASA Principal Investigator, she has been awarded over $30 million dollars in grant money for education programs.  She has a Bachelor of Science and Masters Degree in Earth Science Education, was a Space Grant Fellow, was awarded Geology Student of the Year and has been a K-12 science and gifted education teacher.   Ms. Klug Boonstra has earned 4 NASA Group Achievement awards and numerous awards from other national and state entities.