Jessica Swann
Curriculum and Technology Specialist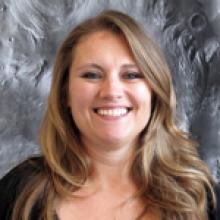 Jessica Swann is the curriculum and technology education specialist and MSIP distance learning coordinator for the ASU Mars Education Program located in the Mars Space Flight Facility at Arizona State University.  Jessica is responsible for developing Mars STEM curriculum and facilitating K-12 STEM teacher professional development nationally. 
Jessica received her B.S. degree in Science Education from Wright State University in 1999 and M.Ed. in Educational Technology through Grand Canyon University in 2006.  She taught 9th grade science for 3 years in Ohio, and then 6 years in Peoria, where she facilitated inquiry learning and used the Mars Student Imaging Project with her students.
Currently, Jessica aspires to work toward her Ph.D. in Science Education and in her spare times spends time camping and watching her family rock climb throughout Arizona, California, and Utah.
Jessica's goal in Mars Education is to provide a bridge of authentic opportunities and experiences to teachers (both pre-service and in-service) and students in the field of science.  Her passion is building a scientific literate community where citizens are equipped with a sound understanding of how science works and how to discern high quality, accurate information from those resources that inaccurately portray scientific research.  She considers the Partnership for 21st Century Skills to be the single most important guiding philosophy in science education to date.