Anthony Zippay
Manager, Education Strategies and Communication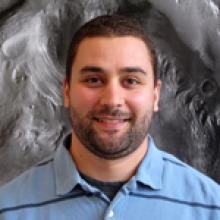 Anthony Zippay is the Manager of Education Strategies and Communications for the Mars Education Program at Arizona State University.
Mr. Zippay comes to ASU from the Universities Space Research Association where he worked as the Principal Investigator and Project Manager of the NASA Undergraduate Student Research Program, one of NASA's largest national higher education projects. In his role with USRP he led the program to tremendous growth through a comprehensive strategic communications plan, resulting in exponential increase to the applicant pool as well as the participation of the program. USRP later received a NASA Group Achievement Award in 2010 for Management Excellence.
Anthony graduated from Bowling Green State University with a B.A. in Communications and Marketing. His background involves working as a marketing research executive for Insight Advertising and a corporate account executive for the University of Texas Pan-American, thus he brings a unique perspective to NASA education programs. He has successfully managed major advances in enhancing the nation's STEM workforce through experiential education. Anthony has implemented and designed new approaches to education program strategy among NASA projects through the use of new multimedia applications and web based tools for the purposes of student outreach and public engagement within NASA opportunities and professional development experiences. Anthony has a passion for research both in marketing and education and is dedicated to finding unique solutions that solve problems and have true and positive impact within the STEM education pipeline.