Ohio Teacher Tests a New Method and Scores Big
DAYTON, OH October 25, 2013 -- Teaching the Mar Student Imaging Project can offer students a whole new perspective on science. Our newest teacher spotlight focuses in on Dayton, Ohio Public Schools' 5th grade teacher,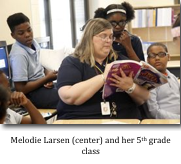 Melodie Larsen. Melodie is fairly new to the MSIP program but after just one year as an MSIP teacher, she has already seen a positive turnaround in her classroom.
"In teaching fifth grade, I find that students do not like math and science because it is hard for them and my goal is to teach them to like math and science. I had the most difficult class in our building and there were MANY challenges with these students," said Melodie.
After 26 years teaching, last year was Melodie's first year teaching the 5th grade.
"EVERY DAY was a struggle as I learned about teaching fifth grade for the first time and then I took out the MARS IMAGES!  Suddenly my students were interested in learning something new. It brought a level of excitement into my classroom that I could not have found through any other program."
MSIP aligns to Common Core standards and NGSS, helping students to better understand how to use the same types of technology and skills that they may need in their future STEM careers.
Melodie explained, "The new Common Core State Standards require students to write more, to work cooperatively and to use technology.  This program fit in perfectly with those new standards.  It also allowed freedom for the students to make choices and to work on areas that interested them or that they were good at.  I think it was also a good fit because it encouraged the students to be actively engaged in the learning process. Our students must learn to use the computer for research they must also learn to tackle a problem and stick with it even when it is hard. MSIP taught my students that."
But it can be a difficult task for teachers to find ways to engage them in the classroom. Let alone get them to understand the concepts that they need to know to succeed on the test and beyond in their future careers. MSIP has this unique ability to captivate their imaginations and allow them to think creatively while working on a real world project.
"Imagine a roomful of fifth grade students that are street smart and uninterested in education.  Children that would rather argue with the teacher than do any work, and that refused to ask for help for anything they did not understand.  That was my classroom!" 
Improvement in Melodie's class came very quickly. She saw increased test scores and increased production from her students on an unprecedented level that the school had not seen before.
"First our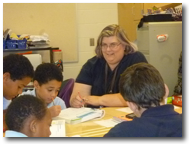 5th grade READING scores on the Ohio achievement test were the best we had ever had.  The reading teacher and I both believe it was because of the students work with MSIP, and their research." 
Among success in her classes achievement scores, Melodie also found that her students surprised her in their positive reaction to the MSIP project.
"I cannot say enough positives about what this program did for my classroom.  On the day of the science OAA (Ohio achievement test) one of my students said, "I hate science."  I was shocked to hear this because I thought all the kids loved science by then.  So I said to him, "Really, you hate all our Mars research?"   His response was, "I didn't know that was science!"  He thought science was reading the science book which we never did in my class."
There are probably a lot of teachers who can relate to this particular story. Your working with students that just do not like the subject that your trying to teach them, they get bored easily, they really struggle to participate in the class. But Melodie decided to take a chance on a minds-on program that was pretty different from the norm and she found that it really worked in her environment.
 "These are students that have many struggles and society does not expect much of them.  I believe I am unique in that I was willing to tackle this project with these students, and now I am trying my best to get other teachers interested in the program because I believe this is the best program out there to get students excited about schools," said Melodie.  
Regardless of grade level, teacher experience, or socioeconomic status, MSIP is achievable in your classroom.
And Melodie Larsen has demonstrated that it's never too early to find success through MSIP.