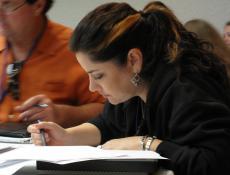 Step 1: Pacing Guides - Creating the MSIP Schedule
Step 2: Mars Image Analysis - Learn About the Red Planet 
Step 3: Question Mars - Developing the Research Question 
Step 4: Proposal - Developing a Research Plan
Step 5: Targeting - Imaging Mars
Step 6: Symposium and Technical Reporting
The Mars Education Program is responsive to the differing classroom modalities and has developed the Mars Student Imaging Project to be a flexible project that can be adapted in not only different formats but also based on different schedules. The Mars Education program has developed two different planning guides to help educators and MSIP team leaders plan coursework and/or computer lab access, establish projects goals and checkpoints and work with the MSIP Coordinators to schedule conferences and presentations. For MSIP teams working on the project in distance learning, these pacing guides should help to provide potential scheduling of daily project activities. These pacing guides will be further discussed for MSIP distance learning teams in the project orientation session.
Downloadable Distance Learning Guides

:
Distance Learning MSIP Traditional Planning Guide (45-60 min)
Distance Learning MSIP Block Planning Guide (90 min)
Downloadable Independent Research Guides

:
Independent Research Traditional Schedule (45-60 min)
Independent Research Block Schedule (90 min)