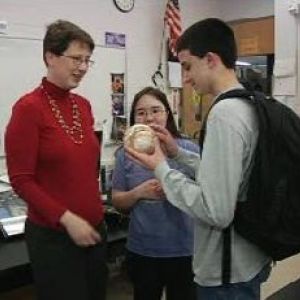 ONONDAGA COUNTY, N.Y. -- For most of the 12 students, this will be an opportunity like they've never had before. These science students have been collecting data and spending a lot of time after school analyzing the planet Mars.
Under the direction of their teacher, Jean Pounder, the students have been focusing on how lava tubes are associated with volcanoes. The students, ranging from grades nine through 12, submitted a proposal to NASA scientists and have been invited to Arizona State next month.
The group will learn more about lava tubes on Mars, but will also get to visit the Grand Canyon and other sites during their February break.
"I get really excited about Mars Mission because I really like the idea of being able to discover new things. It's always really fun to learn about science but getting to discover something on my own," said Juliana Thompson, a Westhill HS senior.
"I'm extremely proud of the students. They really, really do a lot of hard work and all of this is done after school, it's not part of a class and so they are coming in on their own time to take care of getting everything accomplished that they need to get the project done," said Jean Pounder, Westhill HS science teacher.
The group has put forth quite an effort to do fundraising for the trip at SU games, Destiny USA, and other areas in the community.
Once they leave for the trip you can follow along with the students' blog at http://marsmission2013.blogspot.com. By: Brad Vivacqua